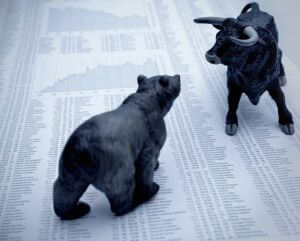 Recession or not to be a Recession, that's the question?
The outlook for the U.S. economy has been bleak for months, with inflation hitting a four-decade high, consumer spending weakening, and interest rates surging. Most economists predicted a recession in 2023.
However, with inflation showing widespread signs of easing in recent weeks, despite ten dollars for a dozen eggs, a more optimistic view has gained a little bit of traction. Perhaps a recession isn't inevitable after all.
One reason for this optimism is evidence that an acceleration in U.S. wages, which has benefited workers but also heightened inflation, is slowing. Federal Reserve Chair Papa Jerome Powell has frequently pointed to fast-rising worker pay to explain why the Fed has had to raise interest rates so aggressively. However, if these rate hikes are carried out far enough and long enough, they can weaken the economy sufficiently to trigger a recession.
Today the Bureau of Labor Statistics showed prices were 6.5% higher in December than a year before and fell .1% compared with November; the first-time prices have dropped month over month since May. This news is boosting hopes that the Fed might decide to pause its rate hikes sooner than expected. We will find out on February 1st. Additionally, the job market remains remarkably sturdy, an essential pillar of the economy. This fact would give great optimism in years past, yet we still hold our breaths. These trends are raising expectations that the Fed might manage to engineer an often-elusive "soft landing," where the economy slows but doesn't go into reverse, and the unemployment rate rises slightly but stays low. It would still mean challenging times for many people, but it wouldn't inflict the widespread unemployment that typically results from a recession.
Although there are still plenty of threats, as China's economy reopens from its Rone Rona lockdowns, it may absorb more of the world's oil supply, which could send U.S. gas prices up again. The continued conflict in Ukraine, possible flare-up, and instability in the middle east.
Additionally, while layoffs remain historically low outside of technology companies, that trend could reverse if businesses become anxious again about the economic outlook. Finally, there is concern that the makeup of the new Congress may be unable to raise the debt ceiling by this summer, which could cause economic turmoil, something we have never seen, and a deep recession if they fail to do so.
Recession or not to be a Recession, that's the question.
Could you let us know what you think? Please leave a comment and let me know your thoughts.