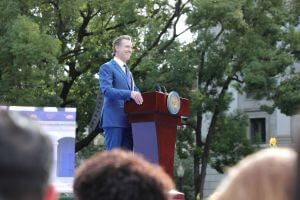 California Governor Gavin Newsom marked the start of his second term by drawing a line in the sand against the GOP, positioning California as a beacon of freedom in a "rising tide of oppression" in Republican-led states. In his inaugural address, Newsom did not name names, but he was clearly targeting GOP governors Ron DeSantis of Florida and Greg Abbott of Texas.
Newsom has spent the past year criticizing the policies of these states, particularly Florida's ongoing battles with Disney. The Governor used the occasion to position California as a defender of freedom, despite the state's ongoing homelessness crisis and a projected $25 billion budget deficit for the coming year.
However, Republican leaders in the state pointed out that these issues, as well as high energy and gas prices, are causing some to leave California for Republican-led states.
Newsom and DeSantis are seen as potential presidential contenders in the future, though Newsom has committed to supporting President Biden if he seeks a second term. The two governors' differing visions for governance highlight the political polarization currently gripping the nation.